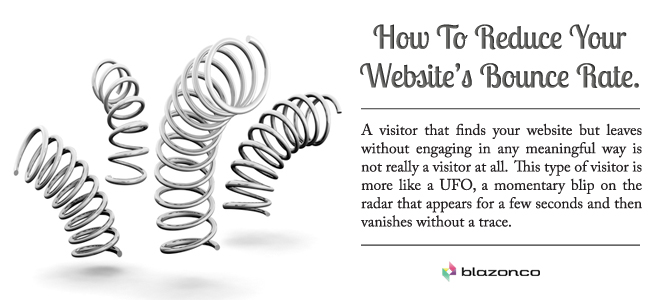 A visitor that finds your website but leaves without engaging in any meaningful way is not really a visitor at all. This type of visitor is more like a UFO, a momentary blip on the radar that appears for a few seconds and then vanishes without a trace. If this describes a high number of your website visitors, keep reading.
Understanding Bounce Rate
First, let's define bounce rate. "Bounce rate" is a metric that measures how many individual visitors leave your website immediately after entering without sticking around to read your content, buy your products, or take any further action. In short, bounce rate measures the overall effectiveness of your website.
An individual who visits your website homepage and then leaves without viewing any other pages on the site is said to have "bounced." Generally speaking—though there are some exceptions to this rule—a high bounce rate shows that your website isn't working, that your visitors aren't interested in what they're finding when they come to your site. A low bounce rate, however, indicates that your visitors are finding what they need at your site and engaging with it enough to explore further.
How to Reduce Your Bounce Rate
Getting a lower bounce rate is the goal of all website owners, much like "getting more traffic" or "selling more products." Unfortunately, there's no secret formula for success. The steps to take to reduce your bounce rate will vary from site to site and from industry to industry. Regardless of your market, though, the following three steps will get you started.
1. Make sure your website is accessible. A visitor who lands on your homepage and leaves without clicking to another page of your site has bounced. One of the fastest ways to lower your bounce rate is to make sure your visitors can access other pages if they choose to. Make your navigation easy to find and read, and include a call to action that points visitors toward the next page they should view.
2. Understand who your visitors are. Who is coming to your website? Where are they coming from? When they arrive, what are they looking for? If you don't know this, you won't be able to craft an experience that will entice your visitors to stay. Start by defining your target market. Then check your website analytics to see where your visitors are coming from and what keywords they're using to find your site.
3. Create content that is clear and relevant to your visitors. On the internet, you only have a few seconds to capture a visitor's attention. You absolutely must feature a clear call to action front and center. This can be as simple as a graphic or a line of eye-catching text that tells your visitors exactly who you are, what you do, and how to get started or get in touch. This should be the first message your visitors see upon reaching your site.
In addition, make sure the information you provide on your homepage is relevant to the needs and goals of your target market. Your website needs to answer the questions your visitors arrive with, and it needs to answer these questions immediately. If your visitors come to your website and get the sense that they've immediately found what they're looking for, your bounce rate will be low because they'll stick around to enjoy your site and the content you provide.
Understanding what your visitors are looking for and providing them with clear, accessible content that meets or exceeds their expectations is key to reducing your website bounce rate.